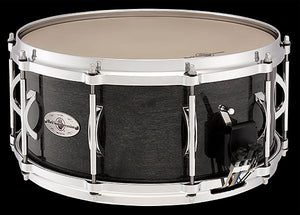 SoundArt Concert Snare Drums
SoundArt Concert Snare Drums
SoundArt Concert Snare Drums offer straight ahead concert performance for musicians at all levels. The SoundArt Strainer was the first trio snare system directly integrated into the throwoff, giving players accurate and unprecedented control of snare unit tension. The cable and wire units engage simultaneously to provide a full, responsive snare voice throughout the dynamic spectrum. 
The SoundArt Snare System
The SoundArt Snare System works as a cohesive unit and blends the 3 systems together for a consistent tonal and dynamic response at all playing levels. This system is precisely machined in the USA from aircraft grade aluminum.
The wire wound snare unit is now placed in the center of our SoundArt snare system to help boost sensitivity and performance!
​​
Maple shells offer an excellent balance of characteristics that have made it a workhorse in concert and orchestral music for over a century. Our bearing edges are shaped to bring out the natural body, warmth, and clarity that maple has to offer.
Offered in 5" x 14" and 6.5" x 14" Sizes

Concert Black or Cherry Rosewood Finish

Die-cast Hoops, Arch Lugs, Stainless Steel Tension Rods

REMO® Renaissance Diplomat drumheads