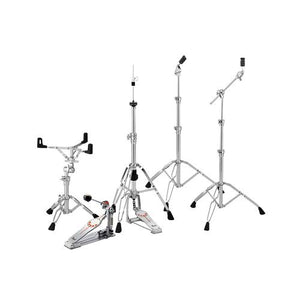 Pearl HWP-930 Hardware Package (H930/S930/P930/BC930/C930)
The Pearl HWP-930 Hardware Pack consists of the following:
BC-930 boom cymbal stand: The BC-930 is a member of the MIPA award-winning 900 Series Hardware family, and features a Uni-Lock Tilter for infinitely adjustable cymbal positioning. It's telescopic knurled cymbal arm allows for an incredible amount of positioning possibilities. The cymbal arm can also fit back inside the main pipe tube, instantly converting into a straight cymbal stand if so desired. 
C-930 cymbal stand: This straight C-930 cymbal stand features a Uni-Lock cymbal tilter for infinite positioning possibilities, and double braced legs for a sure and steady base.
H-930 hi-hat stand: The H-930 features many of the same type of components as the flagship H-2050 stand. Demon Style Long Footboard, Trident Design Tripod with Swivel Function, and Spring Tension Dial.
S-930 snare stand: New streamlined pipe joints now include Pearl's new "clam shell" style collars on the 930 series snare stands. The base of each stand has received an upgrade with the addition of the new double braced Trident Design Tripod which prohibits damage to the stand's pipe from excess torque. 
P-930 pedal: Pearl's P-930 merges many of the advanced features of the Flagship Demon Drive with the award-winning Eliminator line to create a bass drum pedal never before available in this price range.