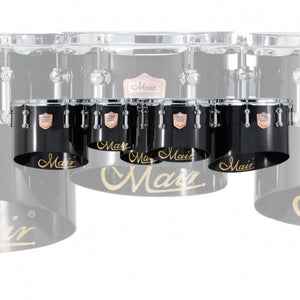 Mair Carbon Fibre High Tension Tenor Drums
The corresponding Carbon Fiber Tenor Mounts are specially designed connection points made from solid carbon fiber sheets that are constructed to match each specific drums layout. The use of the tenor mounts allows the drums to resonate freely and correctly in a near free-floating state, while also being strong, stable, and arranged in the correct positions to promote proper tenor playing. The tenor mounts are connected directly to individual lugs, eliminating the need for compromising the shell with drilling and additional dampening from mounting hardware.
100% solid carbon fiber shells are produced by a special winding process that make it both light-weight and high strength. Through various styles of materials, the drums appearance is modern and sleek, helping to put it in the forefront of the ever-changing marching activity. Carbon fiber shells produce strong and focused sounds that project very well, while also having a great tone and lightweight features.
Both ends of the aruminum alloy tube lugs are connected with stainless steel nuts to enhance the range of the tension. Both lug ends feature patented mosaic red carbon fiber woven sheets. Visually, it presents the uniqueness of Royal series.
Carbon Fiber Tenor connecting sheets are made with accurate spacing in mind, resulting in the distance between each drums being fixed and perfect. The strength and rigidness of carbon fiber helps stabilize the entire set allowing for more movement and agility both on and off the field.
6mm high tension rods are standard on all drums, and are produced in Taiwan.
Through the use of strong fiber materials, 20mm reinforcement rings are added to the inside of every tension ring

 to create a 30-Degree bearing edge which helps produce a warm and focused sound.
All drums come standard with REMO Drumheads to offer the best and purest sound possible, right out of the box.