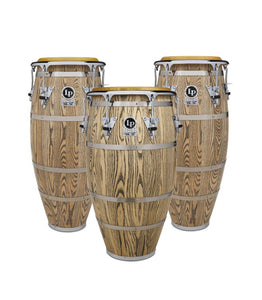 LP® GIOVANNI PALLADIUM WOOD CONGA
Designed with master percussionist Giovanni Hidalgo, LP Palladium Congas feature classic stave construction using beautiful North American Ash wood. The exterior chrome belly bands harken back to the days of New York's famous Palladium Ballroom, which was the epicenter of Latin music in the mid-1900s. 
  32" Premium North American Ash Wood, 3-ply shell
  11-3/4" Natural rawhide head
  Natural Satin Finish with chrome hardware
  Extended Collar Comfort Curve® II Rims
  Premium Galaxy hardware, reinforced LP Heart side plates with 3/8" diameter tuning lugs
  Patented LP ProCare Shell Protectors
  Tuning wrench included
Sizes: 11" , 11 3/4", 12 1/2"