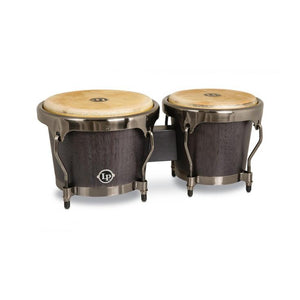 Latin Percussion LPH601-ES Highline Wood Bongo, Ebony Stain
In 1956, a young mechanical engineer named Martin Cohen walked into New York's famous Birdland Jazz Club and was instantly smitten with Latin jazz percussion, so much so that he soon wanted to get his own set of bongos. Trade embargoes at the time meant he could not access Cuban made bongos in the USA so he put his engineering skills to use and soon made what were termed "the finest bongos the world had ever seen". This gave rise to his foundation of the Latin Percussion (LP) Company. For over half a century now, LP has been building classic percussion instruments as well as patenting hundreds of innovations that meet the exacting standards of professional percussionists. Latin Percussion instruments have come to be so renowned that it is almost impossible to listen to anything these days and not hear an LP instrument.
LP Highline Series Bongos feature Siam Oak shells, hand friendly EZ-Curve rims, and hand-selected 6-3/4" and 8" heads of genuine water buffalo skin for a natural, warm tone.