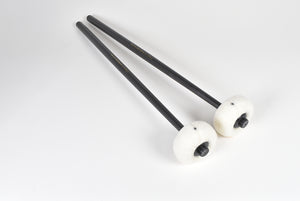 C-FLC "SOFT" FELT CORE LARGE CARTWHEEL TIMPANI ON CARBON FIBER
Our Freer "TFLC/Duff #6" Large Cartwheel felt core on 1/3 tapered premium carbon fiber shafts. Custom made black delrin threaded sleeves and nuts.
Usage: For a deeper, darker, heavier, bigger sound altogether. Sonorous sound with round beautiful tone quality. Great roll stick.
Covering: Cartwheel with custom limited edition green extra soft German felt (thicker than Duff #4).
Tone Color: Dark legato, rich, round, full of fundamental and bottom to the sound and minimal attack.
Larger felt core than Duff #4 with thicker German felt. The cartwheel covering of super soft limited edition green German felt (thicker than CD4) is tightly sewn for a super clean sound yet produces a softer and warmer/darker tone than the CD4 mallets.
Excellent for Tchaikovsky, Mahler, Brahms (beginning of Brhams 1), Sibelius, Bruckner, Strauss, Bartok (Concerto for Orchestra Intermezzo) and Wagner among many others. Huge round sound but still an excellent legato roll mallet. A necessity for all students and professional timpanists who desire a mallet that is modeled after a mallet that has been used and proven for over 75 years. An incredibly versatile, handmade replica timpani mallet made to last. These are the only authentic reproductions of Duff's original set of mallets on carbon fiber shafts, available exclusively from Freer Percussion direct.
Length:  14.5"