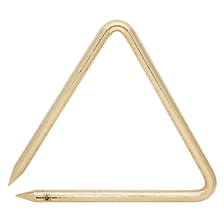 Black Swamp Legacy Bronze™ Triangles
The Legacy Bronze™ triangles produce a refined musical sound full of overtones and lush sonorities. We artfully designed these triangles to retain shimmer at more delicate dynamics without peaking out at louder dynamics like some "lite" triangles will. Each one is handcrafted individually using the highest grade bronze available. 
A lush and brilliant overtone spread.

Significant length of sustain - actually had to shorten the sound sample below - they ring that long.

Rolls and single notes are especially marvelous. 

Buy two sides of the triangle, get the third side free
Comes in 4",6"7",8"