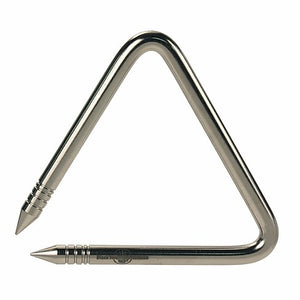 Black Swamp Artisan Triangles
Our Artisan™ steel triangles have found their way into the world's best concert halls because of their versatile sound and excellent playability. The Artisan™ line is a great starting point for any triangle collection due to their ability to produce articulate rhythms, seamless rolls, and an extraordinary dynamic range. With 4 distinct sizes, you'll have all the sounds you need for classic and contemporary works.
A broad overtone response throughout their wide dynamic range.

Precisely bent corners make rolls easier.

E-plating protects the metal from corrosion, but is .0005 inches thin and does not interfere with overtones.

Triangle has three sides for increased triangularity.
Comes in 4", 6", 8", 10" Sizing