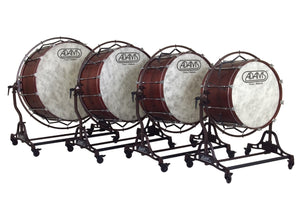 Adams Free Suspended Bass Drum
Adams Free Suspended Bass Drums have a full, resonant sound, and are available in many sizes to meet the distinct needs of all musical genres and ensembles. The free suspended stand has a two piece steel ring that surrounds the Mahogany Shell. The drum hangs freely from a web of rubber mounting bands, allowing the sound to project easily and fully. Adams bass drums are available in eight sizes, and each comes standard with 2" wide wooden hoops that are finished in a matching clear lacquer. The stand's tilting mechanism allows the player to position the drum at any point in a 360 motion, and an integrated footrest reduces fatigue while using a leg for dampening. Fiberskyn III heads come standard for the sonic benefits of calf without the maintenance concerns of natural skin.
Sizes from 28", 32", 36", 40"
Depth choice between 18" and 22"