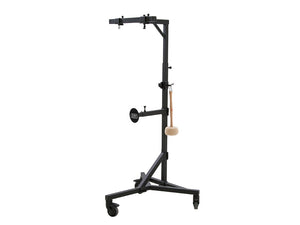 Adams Gong Stand
The Adams Gong Stand allows you to perfectly position a gong or other instruments and will adjust to fit different sizes and playing conditions.
The Adams Gong Stand is height adjustable, proximity adjustable, includes 2 adjustable hanging clamp hooks, along with an adjustable damper to control swing of the gong as well as help control the instrument in transport or when not playing.
Now you can have one stand that can hold a 40? tam tam like a floor stand, and then transform to hang a smaller instrument at chest height. The steel constructed stand has 3 locking wheels on a solid base that reduces the space needed for the instrument in the section, with and built in Mallet hook a durable Powdercoat finish that will last a lifetime.