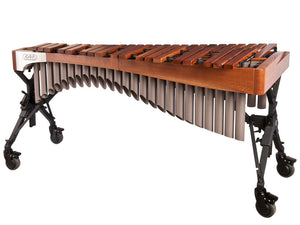 Adams Alpha Xylophone


Flowing Design, Tonal Perfection
At first sight, the visual energy of Alpha Series captures your attention—the design's flowing lines and uninterrupted curves draw you towards the instrument. After playing the keyboard for a few moments, the advances made possible by the new Alpha tuning method are apparent--the open, resonant, and full sound of the instrument sets a new benchmark for quality. The Alpha Xylophone's wide Honduras Rosewood bars effortlessly fill the concert hall.

Partners In Exceptional Design
Inspired by architecture and luxury automobiles, the modern design of the Alpha Series was created in the studio of KesselsGranger Design Works. The design produced by the firm has an unmistakable stance and a line that mirrors the uncompromised flow of music that the instrument produces. From the enveloping ends of the frame to the sweeping side curve, the continuous curve contains the visual energy of the instrument.

The design is enhanced by the prominent chamfered edges of the resonators. This painstaking detail adds a secondary curve that enhances the flowing line of the instrument. The Voyager Frame, the industry leader in height adjustment, has been upgraded. The central connection rod has been raised, hiding it behind the resonators so that it does not disturb the instrument's design. A striking design detail that marks this new generation of Adams Musical Instruments is the introduction of the polished metal wing. This architecturally inspired piece is engraved with the Adams logo, providing an unmistakable identity that is immediately recognizable from distance.