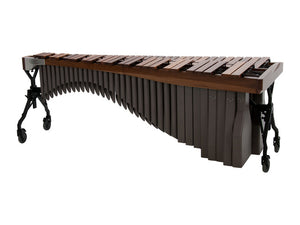 Adams Alpha Marimba
The Alpha Series family of instruments represents the state of the art in modern instrument design. The high sweeping arc of the resonators, rich wood stain finish, and polished aluminium name plate all merge seamlessly to form a visual and aural statement in modern design. Only the finest aged Honuras Rosewood is considered for the keyboard. Each bar is then tuned via the Alpha Tuning method that ensures not only the perfect fundamental note but perfect harmonic structure throughout the upper register. Each instrument is available in a choice of resonator color and a choice of rail and end piece color for an instrument as individual as you are.
The newly developed Alpha Tuning Method allows Adams' master tuners extremely precise overtone placement. Through the new harmonic structure of the Alpha Tuning, the sound of the bars blends incredibly together, ensuring great projection and a unprecedented full and open sound. The Alpha tuned keyboard is wonderfully balanced, with the best fundamental and harmonic intonation possible throughout the entire register. In combination with the Premium Honduras Rosewood, all of these meticulous efforts create a keyboard that is the new benchmark for quality.


Superior Honduras Rosewood Bars
Only the finest aged Honuras Rosewood is considered for an Alpha Series keyboard. This select Honuras Rosewood is possible only through years of intensive advancement in soucring and tuning techniques.

The Alpha Series Bars are the first choice out of every new production series we craft. This, in combination with the Alpha Tuning Method allows to create the Superior Marimba Keyboards we use for the Alpha Series.